Golf Rash
Relief Is Right Here
Spending all day on the course doesn't have to hurt anymore! You know that annoying rash you get from your golf swing in your nether regions and shirt? We can help with that. Beach Gladiator protects the inner thighs and other common rubbing areas from becoming irritated. 
More time on Par
and not the painful itch
When applied, Beach Gladiator creates a slick protective barrier that shields the skin from rubbing and friction. Beach Gladiator is great for those who surf, swim, boogie board, paddleboard, kayak, or scuba dive. It's also great for walking, running, biking and playing in the beach elements. No more Spandex under your clothing to keep from chafing and rashing – this is rash guard in a bottle!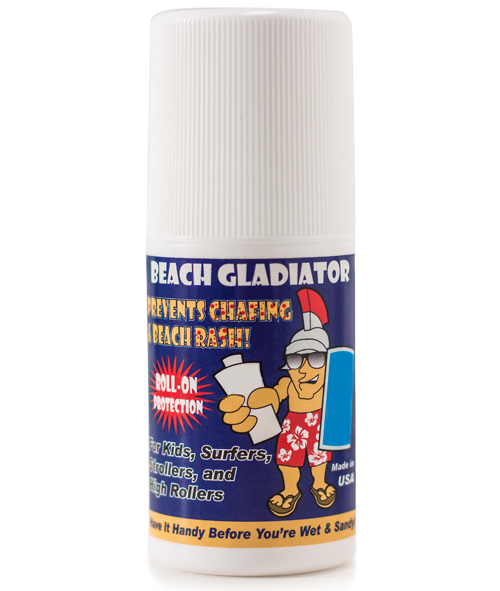 We can't Improve your golf game
But We can help relieve rubbing rashes
Safe, Gentle and Effective
Beach Gladiator contains tons of natural ingredients and extracts formulated to specifically help ease friction wherever applied.
Discrete rash guard. Apply anywhere on the course
Roll on protection for chafing and beach rash
All day long waterproof protection
Non toxic, non staining relief from swing rash
Out of stock
Beach Gladiator
$14.00
Beach Gladiator 1.5oz roll-on bottle
Premium anti-chafe, roll-on liquid delivered to you free of charge – no shipping cost!
Apply directly to skin on the area that will be exposed to friction, rubbing or irritation.
All day waterproof protection
Non toxic and non staining
Works great on inner thighs, nipples, feet and under arms
Ingredients – Dimethicone, aloe barbadensis leaf extract, cocos nucifera (coconut) oil, tocopherol, vitis vinifera (grape) seed oil, calendula officinalis (calendula) flower extract
Out of stock
Repetitive Swinging Motion is source of friction
Every time you swing your club, you are generating friction. Your nipples and arms may become irritated or chafed. Walking the course? Your nether regions may become irritated and need some TLC. Beach Gladiator can help!
FREE SHIPPING WITH EVERY ORDER!
Sink The Easy PuTT With Beach Gladiator
Beach Gladiator can be used to reduce body friction when swinging. Putting and swinging can cause chafing points due to your clothing and skin rubbing together. Damp, humid days on the course can be especially annoying to your game. Applying a liberal amount of Beach Gladiator before your game could be the difference between and 9 hole and 18 hole day!
THE BEST EVER - DOESN'T MELT - WATERPROOF - RASH PROOF! Love all the relaxing pics they post 🙂 and great ideas !! Promos & Discounts
Sign Up Today